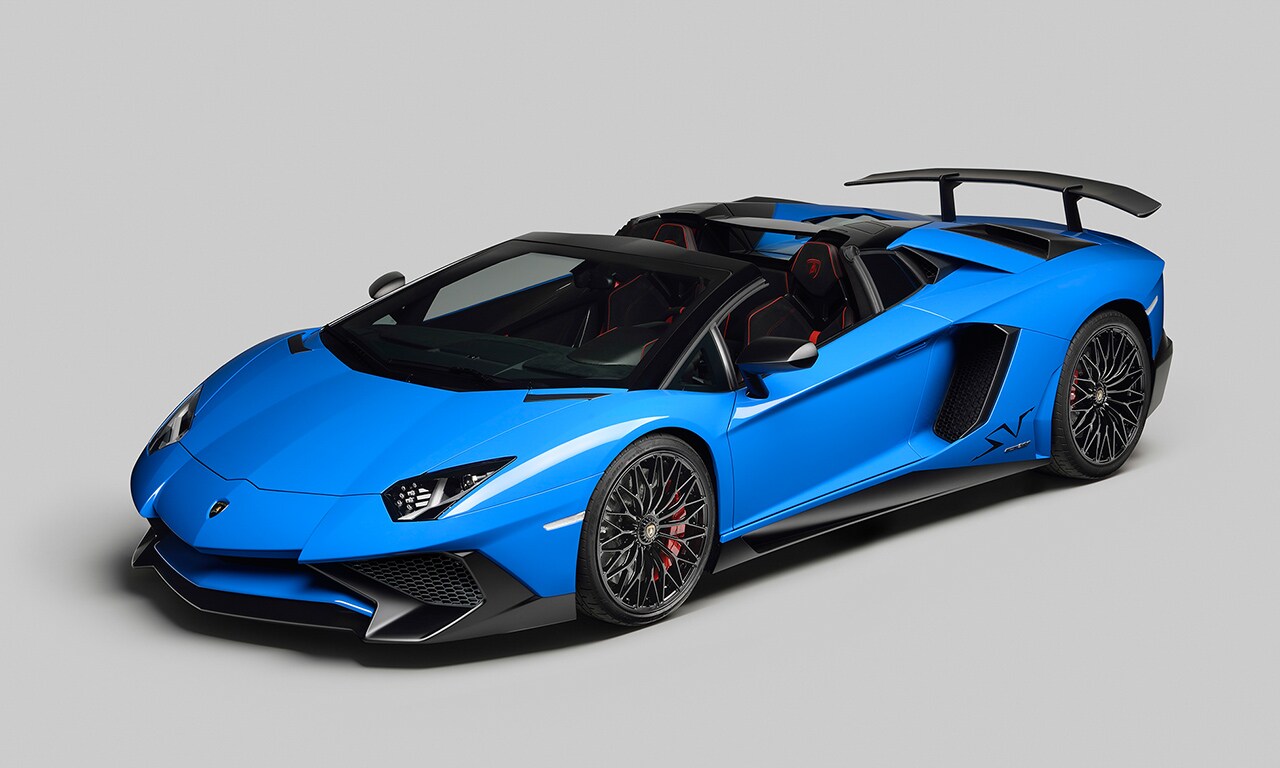 LAMBORGHINI INTRODUCES THE MOST REACTIVE ENGINEERING EVER. »
The Superveloce has been designed to become the fastest and most electrifying Lamborghini of all time, featuring the sportiest DNA, an improved V12 aspirated engine, engineering solutions geared to extreme lightness and a mix of innovative technological features. Expressing the purest essence of a super sports car, it is now time for the Aventador SV Roadster to give you much more than an extraordinary driving experience.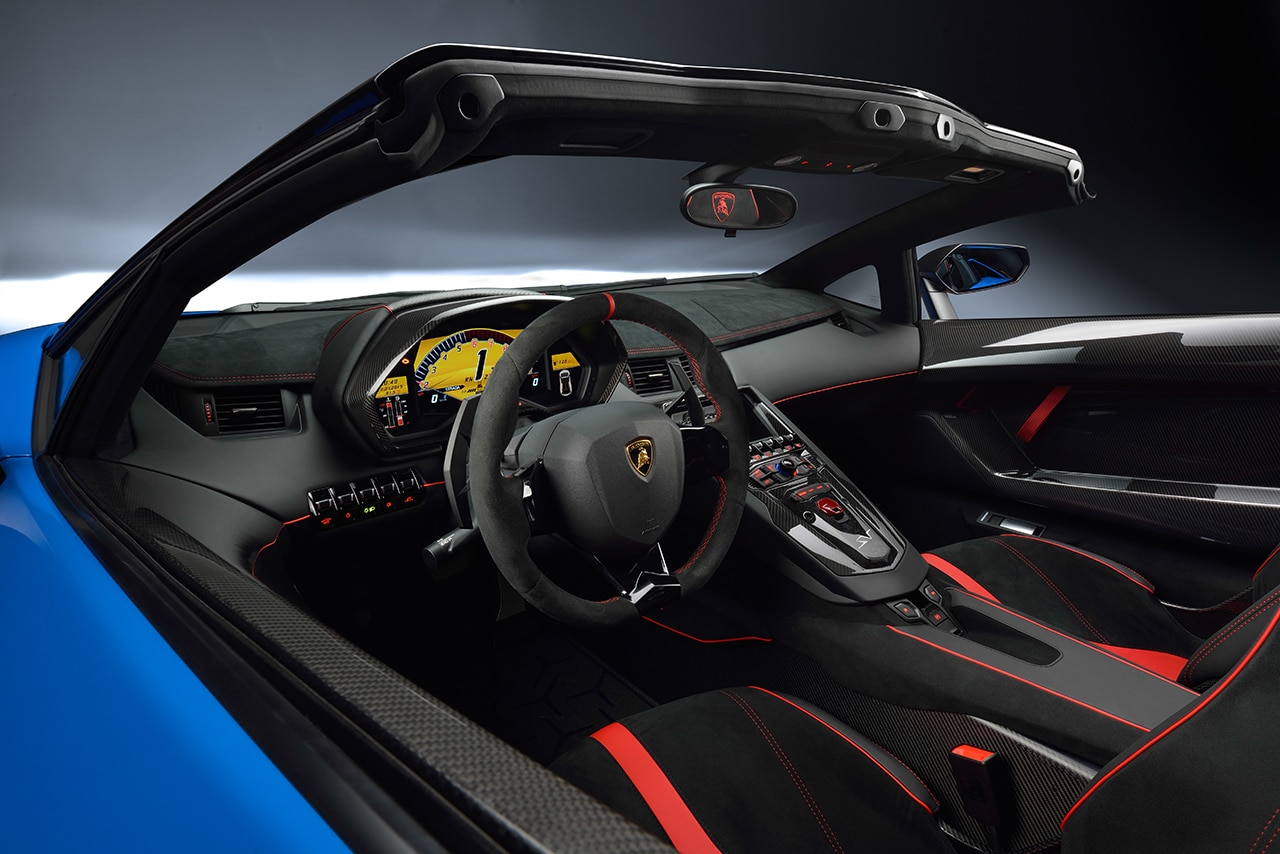 THE FUTURE IS NOT THE FINISH LINE.
IT IS OUR STARTING POINT. »
AThe Lamborghini Aventador LP 750-4 Superveloce Roadster marks a major step forward in terms of innovation, boasting cutting edge technologies to the forefront of the entire super sports car sector. Alongside the carbon fiber monocoque, the race oriented pushrod architecture and the sophisticated Lamborghini ISR 7-speed robotized gear-box already known from the Aventador, you will find important new improvements such as:

- Magneto-rheological dampers;
- Lamborghini dynamic steering;
- New and lighter materials for exterior and interior parts;
- New TFT instrument panel race graphics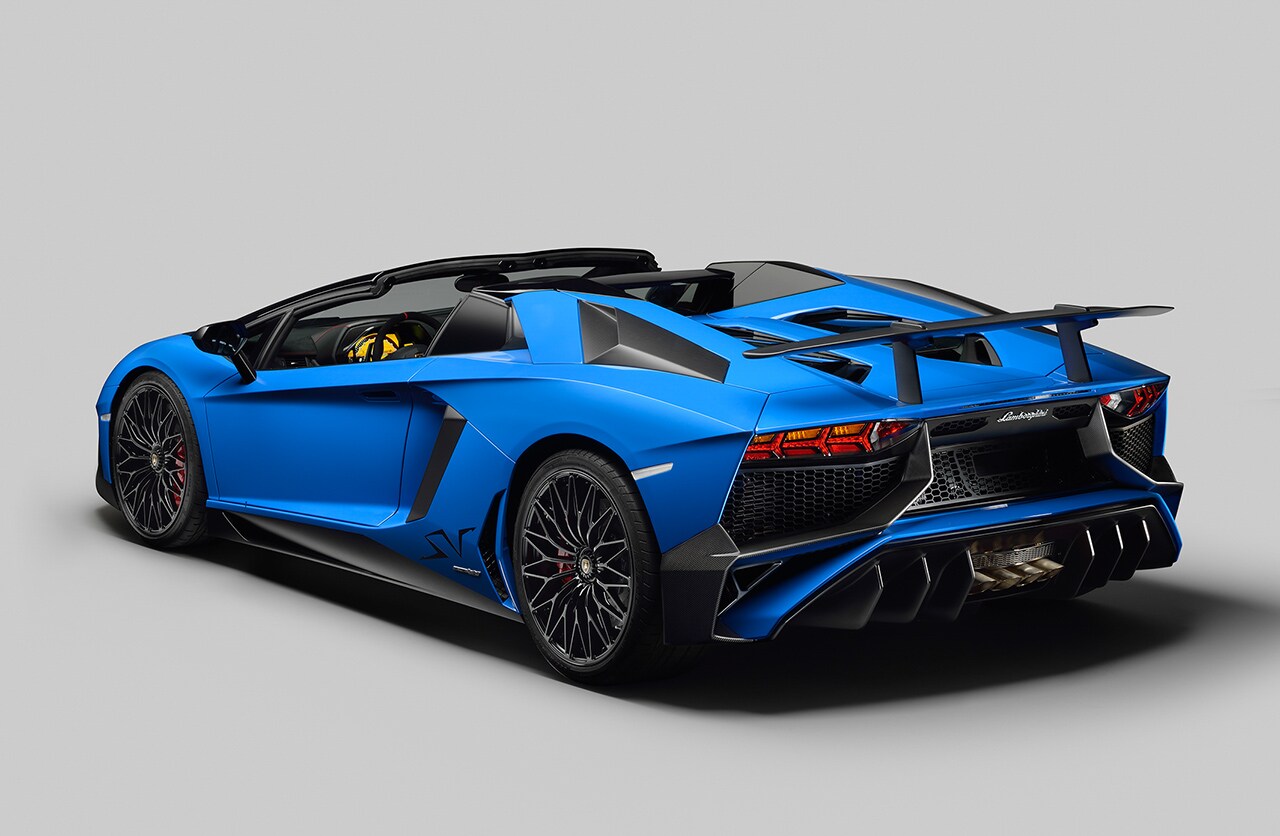 WE TOOK OUT EVERYTHING WE COULD TO OFFER YOU MORE »
Every element of the Aventador SV Roadster has been added on - or taken out - so that the equation could be kept constant and the car's extreme lightness would not be compromised. Extensive use of Carbon Fiber Reinforced Polymer (CFRP) and other ultra-lightweight materials, the simplification of the interior and the modification of many components - including seats, forged alloy rims and the engine bay - made it possible to achieve an unprecedented reduction in weight. But Lamborghini's commitment to taking the Aventador to its purest essence emerges above all in the interior of the new SV Roadster, where you won't find any soundproofing or navigation but you will be able to touch the naked structure of your car.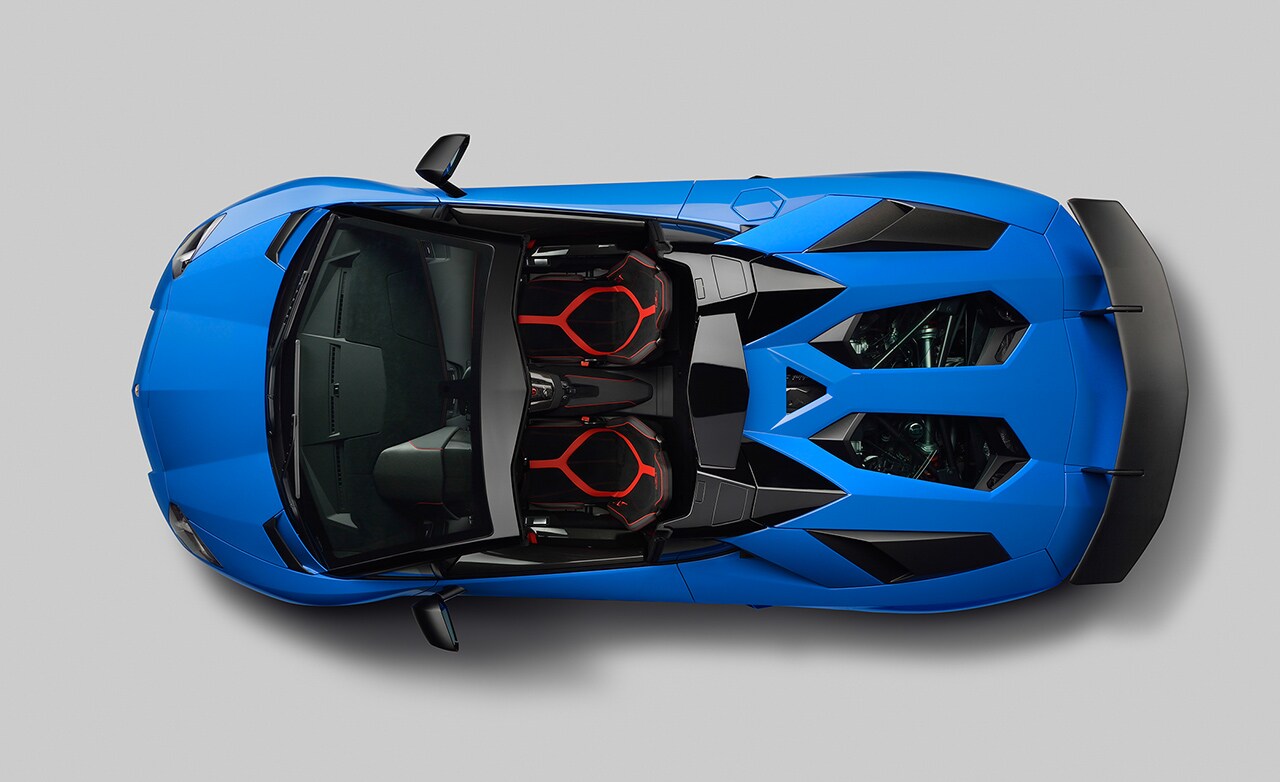 DYNAMISM AT MORE THAN 217 MPH. »
To ensure full control of the car in all conditions - perfectly orchestrated by the present STRADA, SPORT and  CORSA driving modes - the electronically controlled 4WD system is supported by the Lamborghini Dynamic Steering and a magneto-rheological pushrod suspension. This complete package is rounded off by the new Pirelli P ZERO CORSA sport tires, specifically developed for the SV.
TECHNICAL SPECIFICATIONS »
| | |
| --- | --- |
|  ENGINE |   |
|  Type // |  V12, 60º, MPI |
|  Maximum power // |  750 HP @ 8,400 RPM |
|  Maximum torque // |  507 lbft @ 5,500 RPM |
|   |   |
|  PERFORMANCE |   |
|  Top speed // |  > 217 mph |
|  Acceleration 0-62 mph // |  2.9 s |
|   |   |
|  TIRES |   |
|  Front // |  Pirelli PZERO Corsa 255/30 ZR20 |
|  Rear // |  Pirelli PZERO Corsa 355/25 ZR21 |