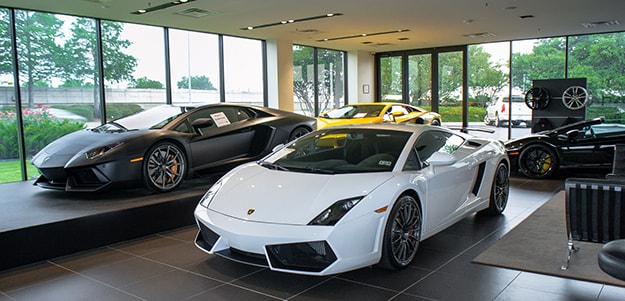 NEW Lamborghini Quality Program Eligibility Requirements
Lamborghini Certified Pre-Owned vehicles deliver the confidence of reliability and meticulous condition that comes with buying a new Lamborghini. Shop certified pre-owned Murcielago, Gallardo, and Aventador models at Lamborghini Dallas.
Consumers are increasingly buying certified pre-owned Lamborghinis over uncertified vechicles. Certified cars are good for the consumer, good for the dealer, and good for the manufacturer. The consumer receives a pre-owned Lamborghini that is in top condition and has a warranty. The dealer sells the certified vehicles more quickly. And, the manufacturer upholds their reputation for building the highest-quality automobiles with more reliable pre-owned vehicles.
Certified pre-owned (CPO) Lamborghinis undergo a manufacturer inspection process upholding the standards of the Lamborghini brand. CPO vehicles are sold with a warranty and the approval of quality. A Certified Pre-Owned Lamborghini is backed by Automobili Lamborghini and authorized Lamborghini dealers.
As of April 29, 2014 Lamborghini updated their Certified Pre-Owned Program by extending the mileage that the vehicle can have at the time of purchase and increasing the amount of time between which the factory warranty expires and when the Certification can be added. 
In order to be eligible for the Lamborghini Certified Pre-Owned Vehicle Program, any Lamborghini Automobile must meet the following criteria:
Not more than 43,500 miles of usage (previous limit was 31,000 miles)
Not more than 24 months (previous limit was 12 months) of coverage remaining under the Factory Lamborghini Limited Warranty issued by Automobili Lamborghini LLC or Automobili Lamborghini SpA (or a Certified Pre-Owned Lamborghini Limited Warranty issued by Automobili Lamborghini America LLC)
Less than 84 months of use (previous limit was 72 months)
Passed the CPO check performed by an authorized Lamborghini Dealer
Passed the vehicle history check
Been sold by Automobili Lamborghini America LLC or Automobili Lamborghini SpA to an authorized Lamborghini Dealer in the USA
Eligible after market components - all after market components must be agreed in advance with Automobili Lamborghini technical staff during certification process (*after market components and subsequent damages caused are not covered under the CPO program)



The CPO Lamborghini Quality Program is available through the Lamborghini official network only. 
 
Call one of our Sales Consultants at Lamborghini Dallas today for full details on this comprehensive factory program available only to vehicles sold through an authorized Lamborghini Dealer.