PURE DRIVING PLEASURE »
This is a car for promenades, joy of life distilled in a car. The design of the LP 560-4 Spyder expresses toughness. Its minimalist shape clearly indicates that it is the direct descendant of the Gallardo LP 560-4.
Driving a Gallardo Spyder is an exciting, unique, and captivating experience which is made even more thrilling by the unmistakable sound of the V10 engine
.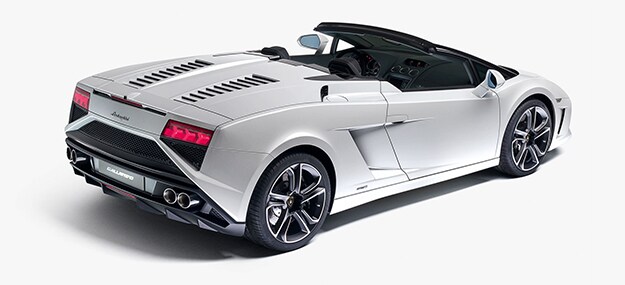 LUXURY AND SPORTINESS »
A tight, muscular contour directs the gaze from the font of the car to the cockpit, which promises one thing above all: a complete open-air driving experience like no other
.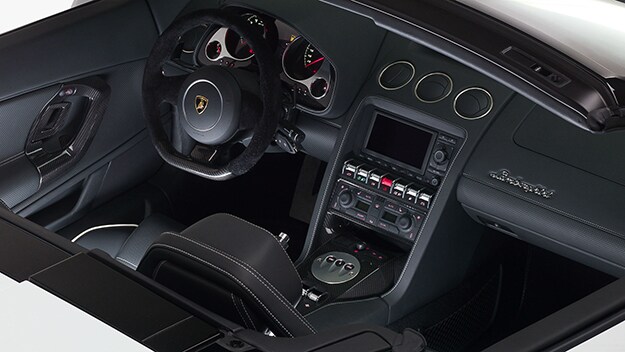 TECHNICAL SPECIFICATIONS »
| | |
| --- | --- |
|  ENGINE |   |
|  Type // |  V10, 90º, DOHC 4 valves |
|  Maximum power // |  560 HP @ 8,000 RPM |
|  Maximum torque // |  397 lbft @ 6,500 RPM |
|   |   |
|  PERFORMANCE |   |
|  Top speed // |  201 mph |
|  Acceleration 0-62 mph // |  4.0 s |
|   |   |
|  TIRES |   |
|  Front // |  Pirelli PZero 235/35 ZR19 |
|  Rear // |  Pirelli PZero 295/30 ZR19 |