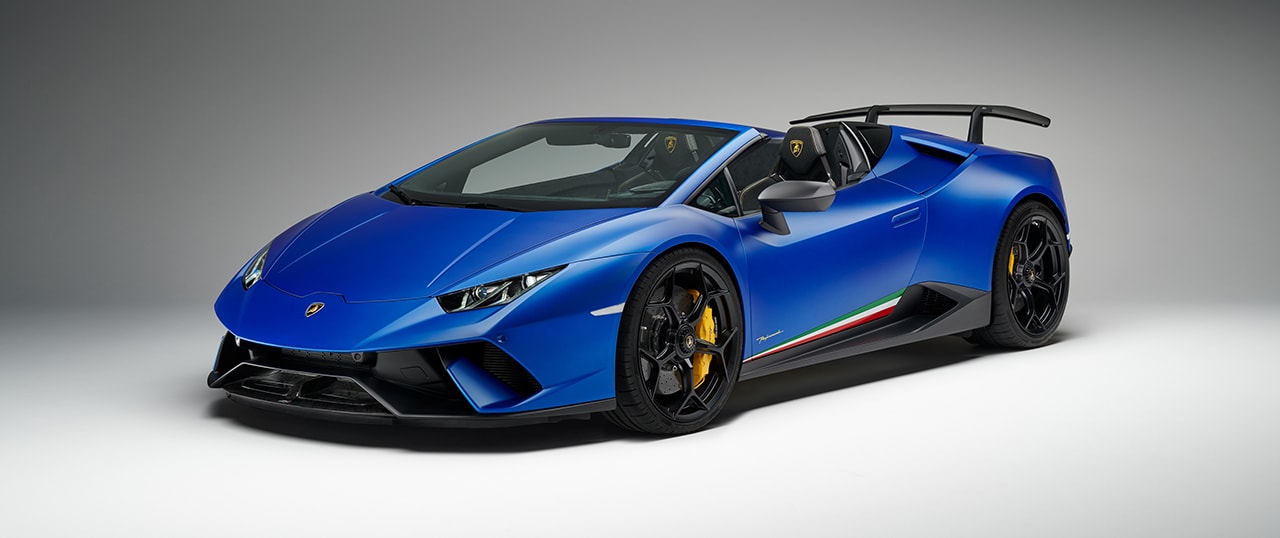 VIVID TECHNOLOGY »
Design and engineering delivers sublime combination of performance, driving dynamics and fresh-air exhilaration
Forged carbon fiber technology contributing to 35 kg weight reduction over Huracán Spyder
Naturally aspirated 5.2 l V10 engine with 640 hp at 8,000 rpm
Acceleration 0-100 km/h in 3.1 seconds and top speed of 325 km/h
The technologies and performance prowess of the Huracán Performante in a Spyder model including active aerodynamics: "Aerodinamica Lamborghini Attiva" (ALA)
The Huracán Performante has decided to lower its roof and transform itself into the Spyder with the highest performance that the Huracán family has ever seen. Its lines are designed to thrill at first sight and its state-of-the-art technology has been developed to provide a one-of-a-kind driving experience. Weighing in at 35 kg less than the Huracán 4WD Spyder and with 30 HP more, this newest addition to the House of the Raging Bull vaunts the best power-to-weight ratio in the Huracán Spyder range. It uses Forged Composites® material and the new ALA (Lamborghini Active Aerodynamics) technology. The Huracán Performante Spyder: power has become breathtakingly beautiful.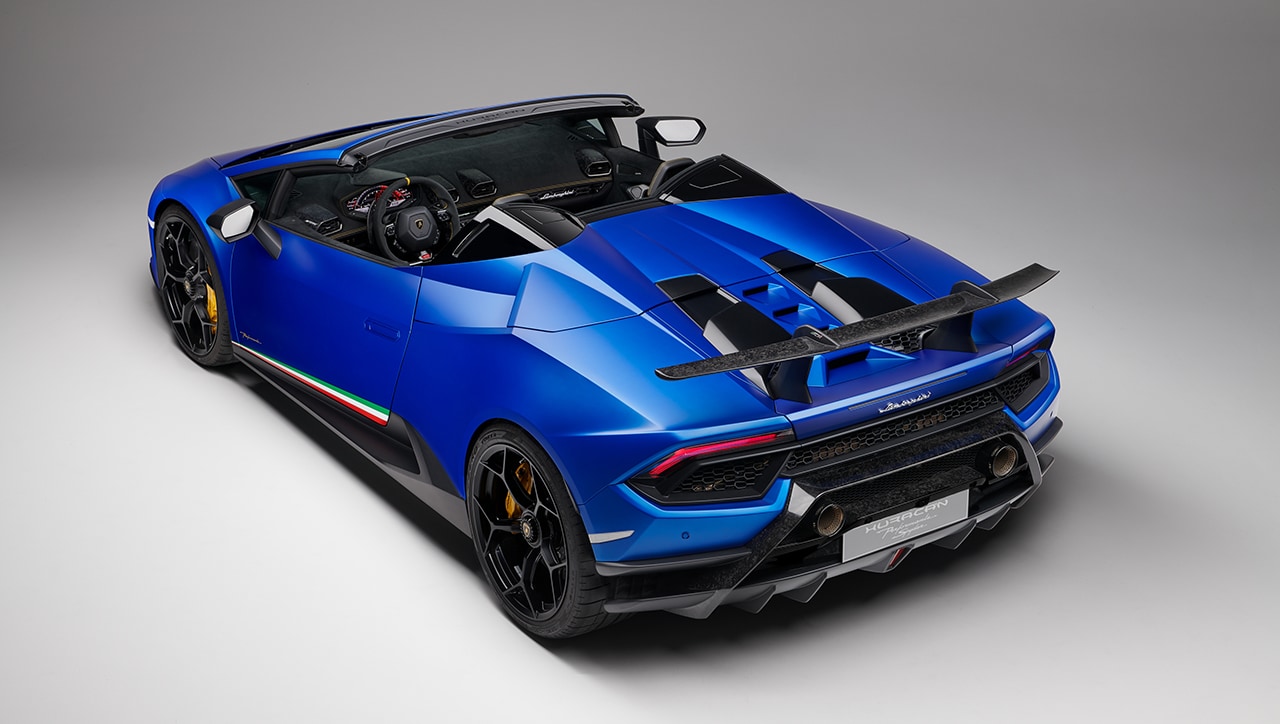 EMOTION »
It would be impossible not to feel the thrill. The Huracán Performante Spyder is breathtaking beauty paired with extreme performance. A car with a strong and assertive character, designed to enrapture. With an ANIMA driving-mode selector that has been optimized to respond seamlessly to driver commands and its V10 640 HP Huracán Performante Spyder engine, the sensations you experience behind its wheel will travel from your head to your heart in a fraction of a second
.


EXTERIOR DESIGN »
Design and aerodynamics developed with a passion that comes only from striving to attain the very highest in performance and beauty, and achieved thanks to the use of Forged Composites®, a hybrid chassis in aluminum and carbon fiber, and the new patented Lamborghini ALA (Lamborghini Active Aerodynamics) technology. Its sharp, clean and finely-honed lines make the Huracán Performante Spyder unmistakable
.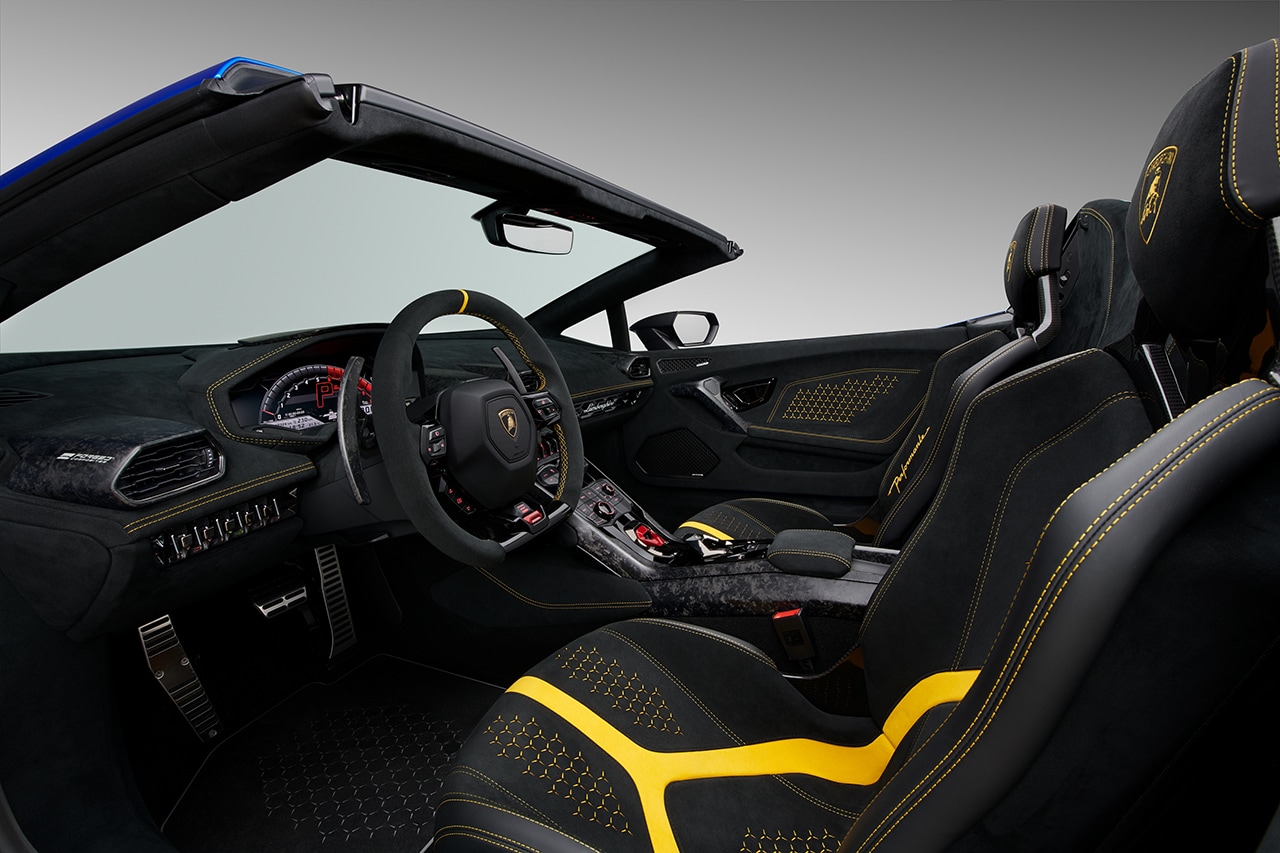 INTERIOR »
All of the Italian luxury and elegance of a Lamborghini can be found inside this vehicle. The details are finished with care, devotion and precision. Elegantly concealed within each individual component of the Huracán Performante Spyder lies the most state-of-the-art technology. Take, for instance, the ANIMA (Adaptive Network Intelligence Management) driving-mode selector, which makes it possible to satisfy every driving need and allow this vehicle's character to shine under any conditions
.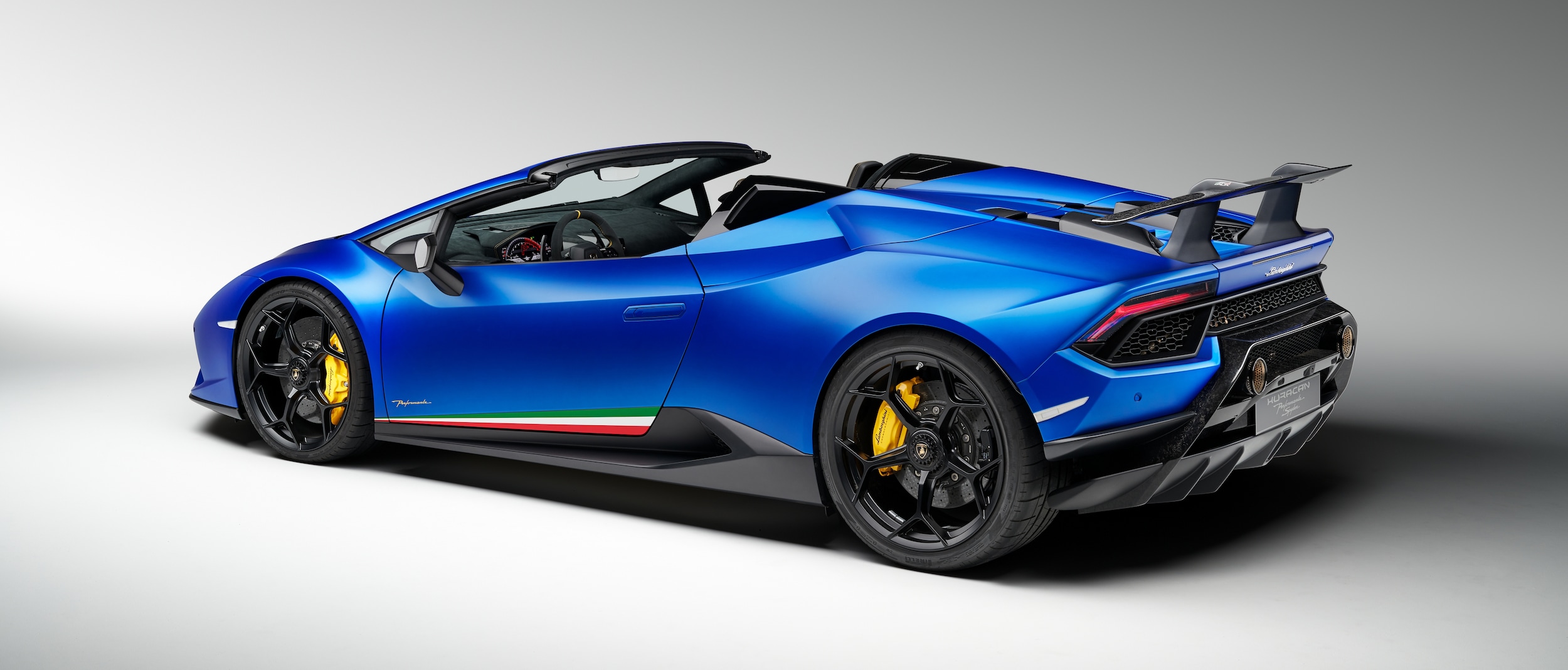 DRIVING DYNAMICS »
There are many aspects that make this vehicle the highest expression of the new concept of super sports car. The even more powerful V10 engine, the extensive use of Forged Composites®, which make it even lighter in weight, the LDF 7-speed dual-clutch transmission and the new ALA active aerodynamic system that controls the air and directs it in its favor
.
ENGINE
| | |
| --- | --- |
| Completely updated and redesigned, with fluid-dynamics optimized at both intake and exhaust, this engine is the aspirated V10 with the highest specific power. The new intake ducts come directly from Lamborghini Motorsport's experience and improve response at all speeds. The double clutch transmission (LDF) has been further perfected and now is able to support even the highest performance. All of this is captured by the even more vibrant and thrilling sound of the new lightened exhaust system. |    |
ALA
| | |
| --- | --- |
| Aerodinamica Lamborghini Attiva is an intelligent and innovative system that manages active aerodynamics. The ALA system adapts to the driving style and type of route. When necessary, it increases vertical load to promote stability and speed through curves or reduces aerodynamic resistance to promote acceleration and make it easier to reach top speed. |     |
SUSPENSION
| | |
| --- | --- |
| The double wishbone architecture of the Huracán Performante Spyder's suspension systems guarantees the perfect balance between ease of use and sports performance. The standard suspension is paired with an optional system of magnetorheological shock absorbers that instantaneously respond to driving style and adapt to road conditions and driving dynamics, improving control over the vehicle, especially on the race track. |     |
STEERING SYSTEM
| | |
| --- | --- |
| The Huracán Performante Spyder is equipped with Electronic Power Steering (EPS), a system that adapts perfectly to any driving style and always ensures the right power assistance on both track and road and in every ANIMA driving mode. The innovative Lamborghini Dynamic Steering (LDS) system is also available as an option. It lets you dynamically change the steering ratio, especially in CORSA mode, to get a more direct response on the race track. |     |
TRANSMISSION
| | |
| --- | --- |
| Imagine you could have two gearboxes in the same unit: while one gear is engaged, the next would already be selected to reduce shifting time and be sure the shift occurs instantaneously and in the smoothest way possible, by opening one clutch and closing the other. This is what the Huracán Performante Spyder is able to offer you, thanks to its 7-speed Lamborghini Doppia Frizione (LDF) dual-clutch transmission. |     |
HMI
| | |
| --- | --- |
| Even the new main instrument panel graphics of the Huracán Performante Spyder convey a sense of performance and speed. In CORSA mode, the tachometer and gear indicator are clearly visible in the center, just like on a race car. The Lamborghini Smartphone Interface (Apple Car Play©, Android Auto©) and the Lamborghini Telemetry System are also available as optional equipment. With CarPlay, you can pair your iPhone to the car and display the main personal apps that are available directly on the instrument panel. With the Lamborghini Telemetry System, on the other hand, you can record your performance in real time and analyze it afterwards to improve your driving skills. |     |
DRIVETRAIN
| | |
| --- | --- |
| The all-wheel-drive system is controlled electronically and guarantees greater speed and precision in transferring torque between the axles. All of this translates into improved control in any driving conditions. The system continuously varies torque distribution on the basis of the selected driving mode and the road conditions. The result is exhilarating: improved power transfer on curves and when accelerating during demanding stretches of driving, together with better grip and safety during day-to-day driving. |     |
FORGED COMPOSITES®
| | |
| --- | --- |
| One of the secrets behind the new Huracán Performante Spyder's performance is Forged Composites®. It is the lightest, most resistant and cutting-edge material that Automobili Lamborghini uses today, and it makes it possible to create the components with complex geometries that are at the heart of the front and rear structures of the ALA. |      |


TECHNICAL SPECIFICATIONS 
 ENGINE
 
 Type //
 V10
 Maximum power //
 640 HP @ 8,000 RPM
 Maximum torque //
 442 lb ft @ 6,500 RPM
 
 
 PERFORMANCE
 
 Top speed //
201 mph
 Acceleration 0-62 mph //
 3.1 s
 
 
 TRANSMISSION
 
Type //
Electronically controlled all-wheel drive system (Haldex gen. V) with rear mechanical self-locking differential



 7-speed dual clutch transmission




"

Lamborghini Doppia Frizione" (LDF)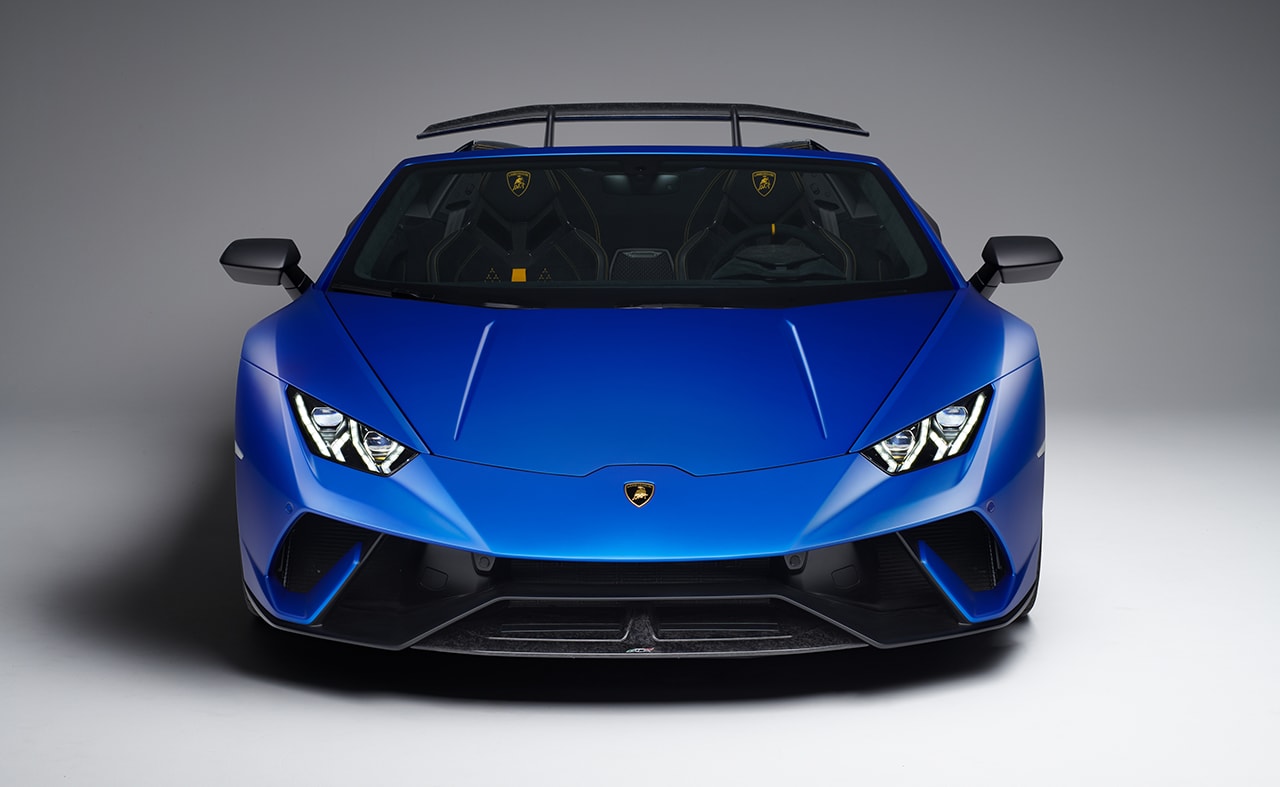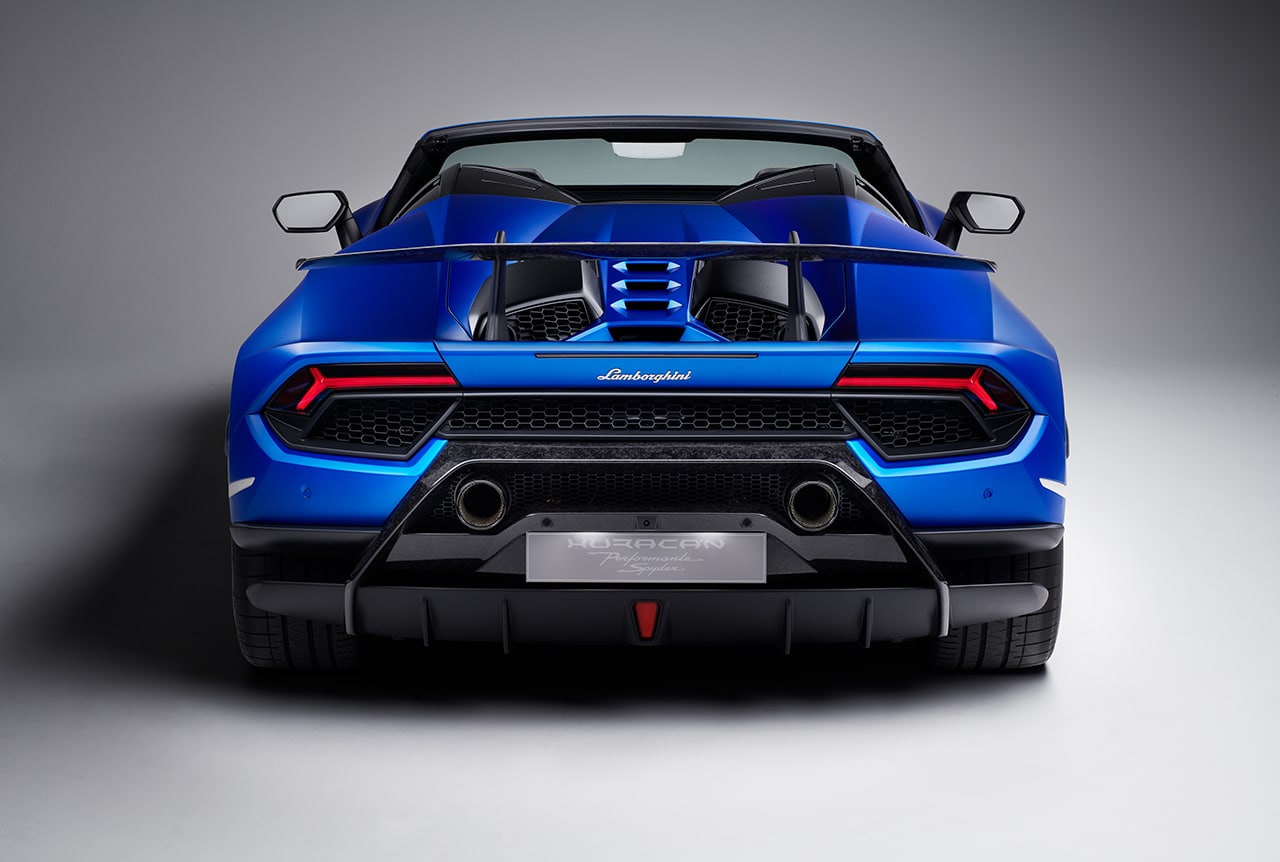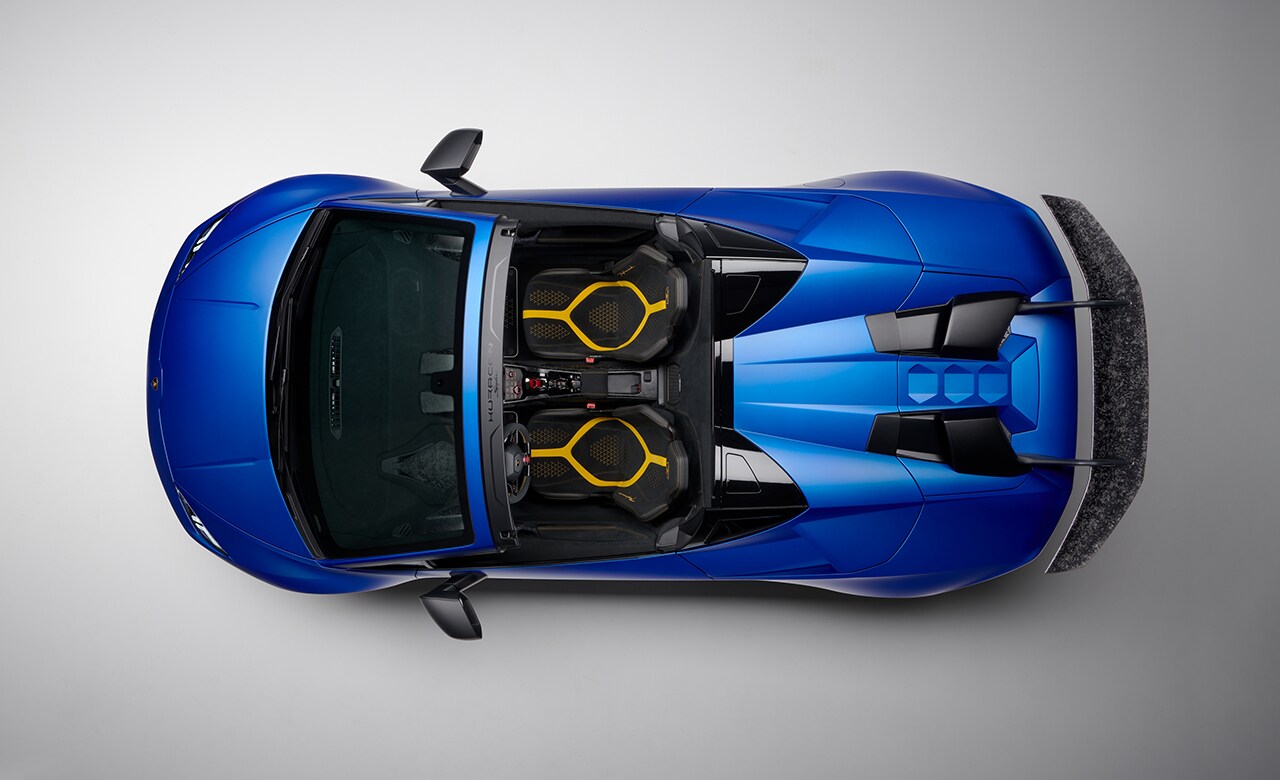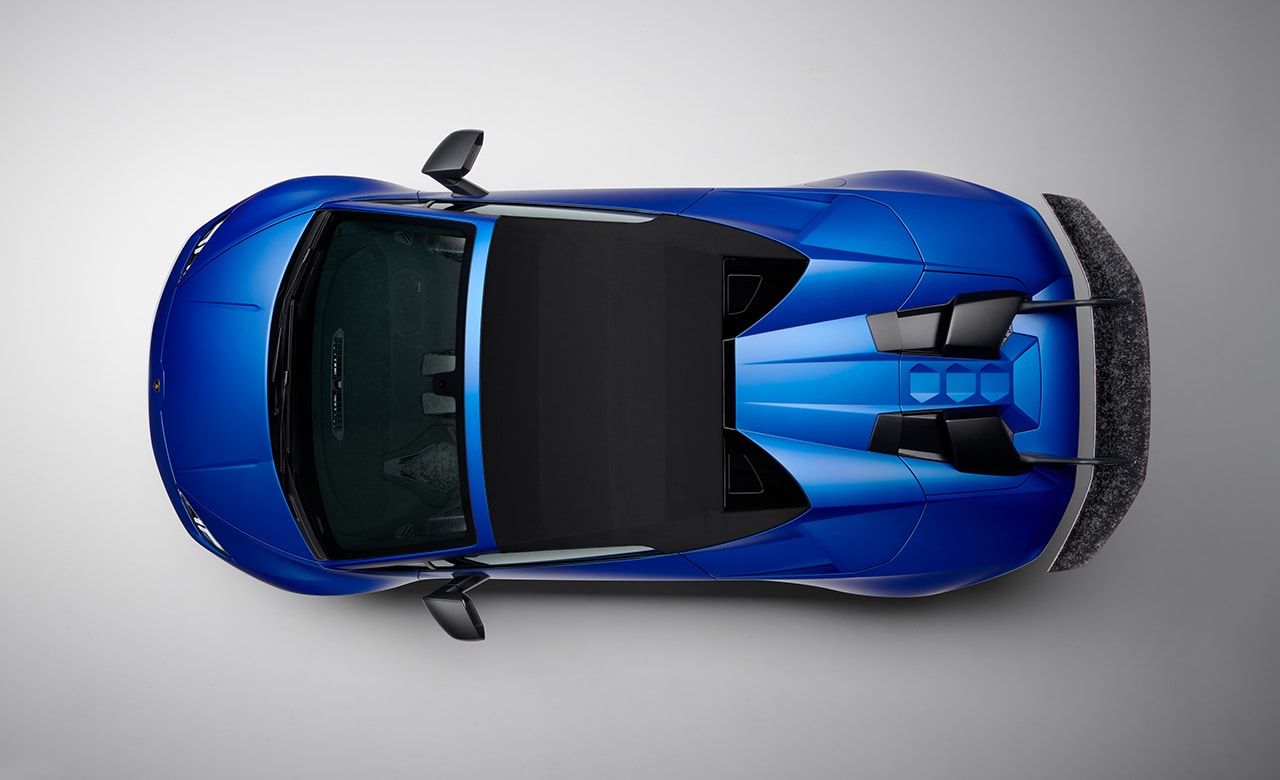 PRESS RELEASE »


Lamborghini Huracán Performante Spyder:
the pinnacle of performance and heightened open-air emotio

n

Design and engineering delivers sublime combination of performance, driving dynamics and fresh-air exhilaration 


Forged carbon fiber technology contributing to 35 kg weight reduction over Huracán Spyder 


Naturally aspirated 5.2 l V10 engine with 640 hp at 8,000 rpm 


Acceleration 0-100 km/h in 3.1 seconds and top speed of 325 km/h 


The technologies and performance prowess of the Huracán 
Performante in a Spyder model including active aerodynamics: "Aerodinamica Lamborghini Attiva" (ALA) 


Sant'Agata Bolognese/Geneva 6 March 2018 - Automobili Lamborghini presents the Lamborghini Huracán Performante Spyder: the sublime combination of peerless technological innovation, performance and open-air driving. 


"The Huracán Performante Spyder takes the zenith of Huracán developments, combined with the enhanced emotion of driving a convertible," says Stefano Domenicali, Chairman and Chief Executive Officer of Automobili Lamborghini. "The Huracán Performante already provides the most heightened feedback and emotion from road and track, and the Huracán Performante Spyder puts the driver even closer to asphalt and air, as well as the unique resonance of a naturally-aspirated Lamborghini engine." 


With its inimitable 5.2 l V10 naturally-aspirated engine, the permanent four- wheel drive Performante Spyder accelerates from 0-100 km/h (0-62 mph) in 3.1 seconds, 0-200 km/h (0-124 mph) in 9.3 seconds, and with a top speed of 325 km/h matches its coupé stablemate. Braking from 100-0 km/h is mastered in 31.5 m. 


Like the Performante coupé, the Spyder outputs 640 hp (470 kW) at 8,000 rpm, producing 600 Nm of torque at 6,500 rpm, and with more than 70% of torque already available at 1,000 rpm. With a total dry weight of just 1,507 kg, the Spyder returns a weight-to-power ratio of 2.35 kg/hp, with weight distribution front/rear of 43/57%.


Design and engineering technology in exhilarating harmony 


The inherent design, technology and performance features of the Huracán Performante are as fundamental in the Spyder, thus adding a new dimension of driving pleasure to the supreme driving experience of the Performante. Its open-top design clearly differentiates the Spyder from its coupé counterpart, with roof both open and closed. 


The Performante design cues of Super Trofeo race cars and performance motorcycles with their naked, open-frame streetfighter characters remind that the Huracán Performante Spyder is a super sports car as capable on the track as the road.

The visible carbon fiber running throughout the aluminium body references the Huracán Performante Spyder's lightweight character, contributing to a weight reduction of 35 kg over the original Huracán Spyder. Forged composite, with its ability to be shaped into complex geometrical shapes, features in front and rear spoiler, engine bonnet, rear bumper and aerodynamic diffuser: functional elements components within Lamborghini's patented active aerodynamics system introduced on the Huracán Performante: Aerodinamica Lamborghini Attiva -- ALA.

The Spyder's soft-top does not compromise the ALA system, which varies aero load in conditions requiring either high down force or low drag, as well as enabling aero vectoring in high-speed cornering, thus providing excellent driving dynamics on track and on road in every condition. Lamborghini's Piattaforma Inerziale (LPI) system governs all the car's electronic systems in real time, including the car's set-up as well as activating the ALA system in less than 500 milliseconds, ensuring the best aerodynamic set-up of the car in every driving condition.

Like the Huracán Performante coupé, the Spyder features an enhanced suspension system; recalibrated ESC; more responsive Lamborghini Dynamic Steering (LDS); permanent four-wheel drive maximizing traction in all situations in conjunction with the ALA system; and revised ANIMA: Lamborghini's driver-mode system comprising STRADA, SPORT and CORSA, which customizes the set-up of all the car's dynamic systems.

The Huracán Performante Spyder roof - dynamic connection to ground and air

The lightweight, electrohydraulic roof ensures the Huracán Performante open-top is a true Spyder, perfectly complementing the car's distinctive lines both open and closed, and maintaining rigidity, handling and performance. Even as a convertible, the Huracán Performante Spyder maintains the stiffness of an ultra-performing super sports car. The roof defines the Performante's dynamic silhouette while closed, and when down is efficiently stored to maintain the Performante Spyder's perfect center of gravity, revealing the alter-ego aesthete of the open Huracán Performante Spyder.

The roof opens in just 17 seconds up to a driving speed of 50 km/h (30 mph). The rear window can also be electrically opened, which functions as a windshield when closed. When the roof is down, the Huracán Performante Spyder's design incorporates two movable fins, which rise out of the folding roof casing and continue the roofline from seatbacks to the rear of the car, lending the Spyder its distinctive silhouette. An integrated duct within the fins reduces turbulence in the headroom during open-top driving. Two additional, removable wind guards damp lateral aerodynamic pulsations, ensuring perfect acoustic comfort that allows conversation even at high speeds.

The Huracán Performante Spyder, with roof open or closed, is equally a driver's car in challenging dynamic situations, as well as a thrilling lifestyle experience.



Price of the Lamborghini Huracán Performante Spyder and market delivery
The first customers will take delivery of the new Lamborghini Huracán Performante Spyder
in summer 2018 at suggested retail prices as follows:


USA:        USD 308,859 (suggested retail price - GGT included)
Europe:    EUR 219,585 (suggested retail price taxes excluded)
UK:          GBP 195,078 (suggested retail price taxes excluded)
China:      RMB 4,237,777 (suggested retail price taxes included)
Japan:      YEN 35,613,532 (suggested retail price taxes included)