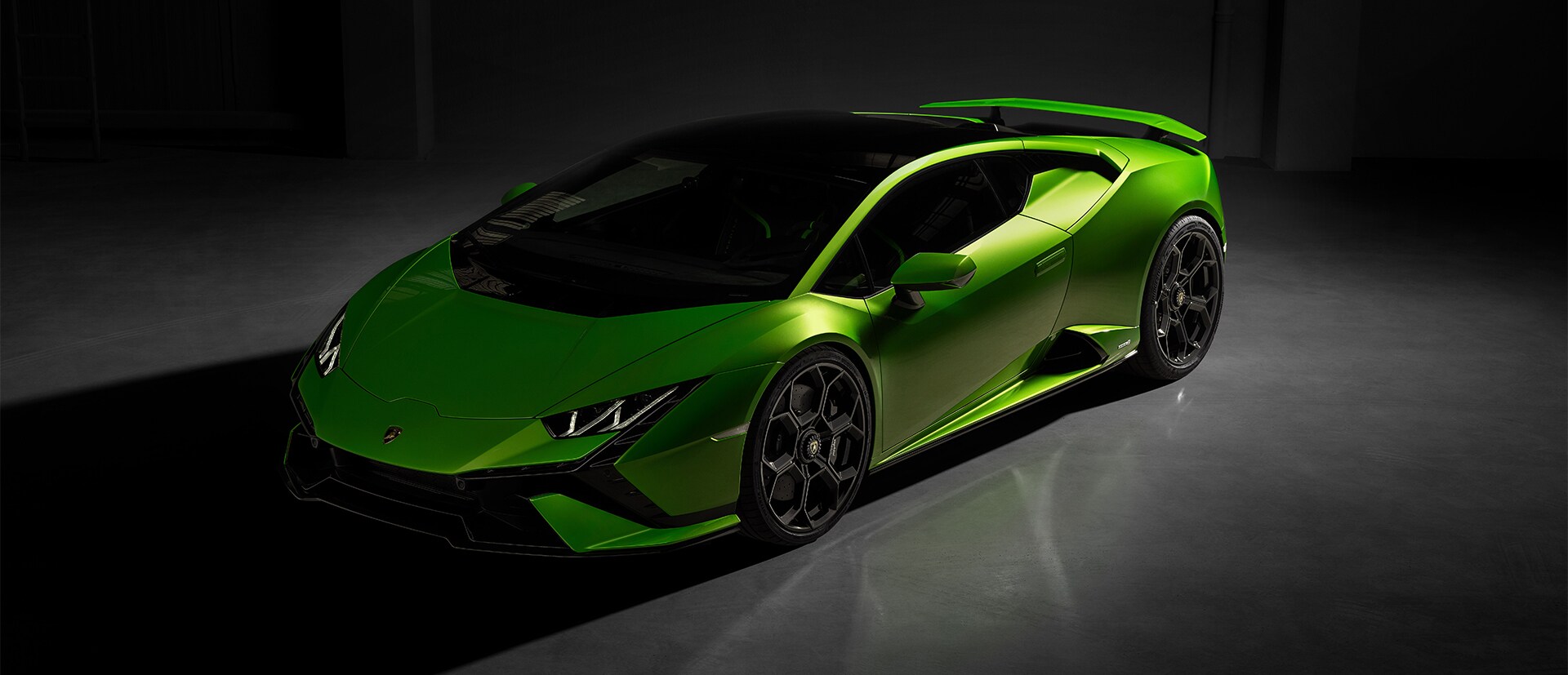 TAKE ALL YOUR SOULS TO DRIVE
The latest member of the Huracán range provides the purest Lamborghini driving experience combined with the freedom of everyday use: a bridge between past and future, lifestyle and performance, road and track. Huracán Tecnica brings forth a pilot's attitude in every driver, delivering the most rewarding performance and the ultimate, fun-to-drive experience - simultaneously. Unleash the unique character of the most versatile Huracán.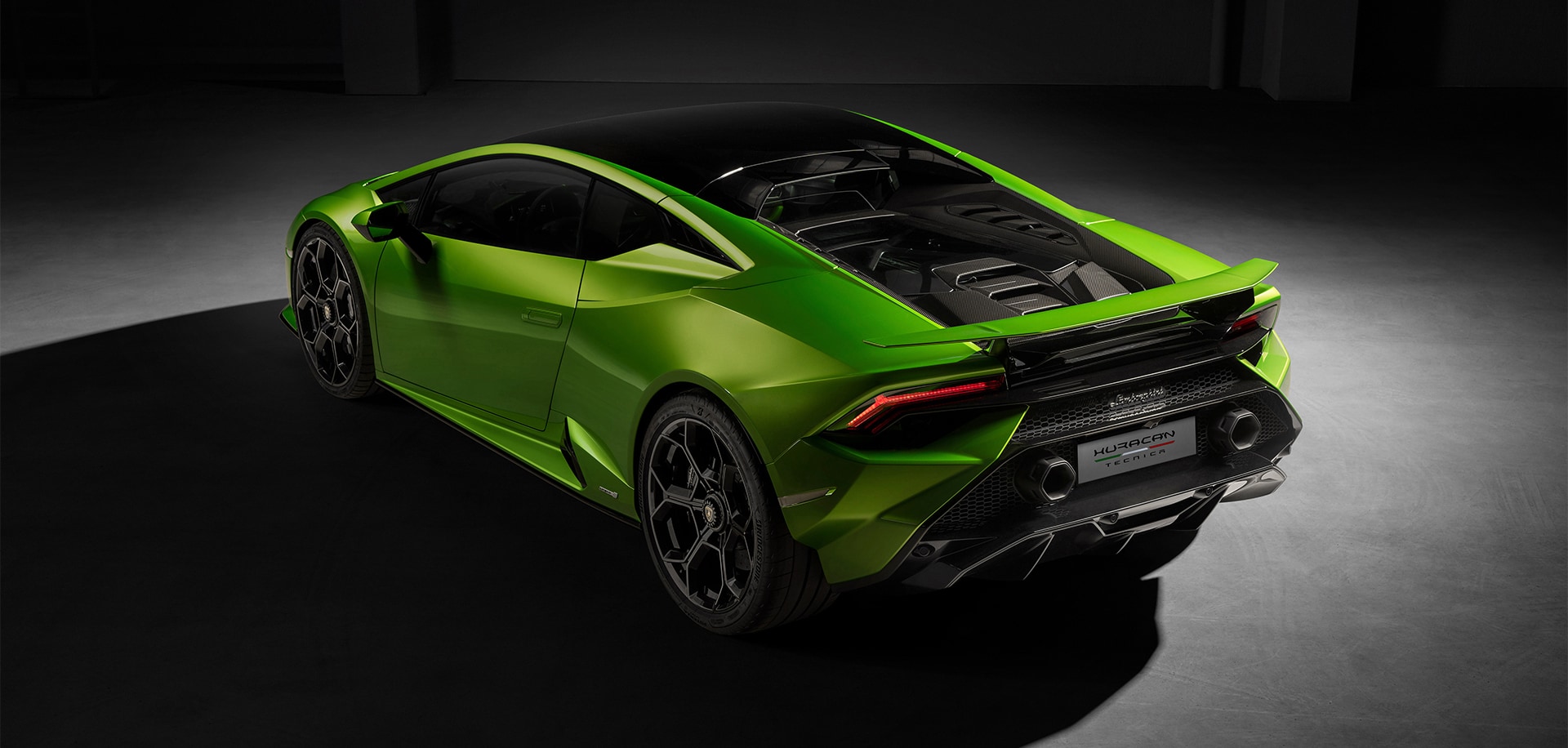 EXTERIOR
Huracán Tecnica was designed as a bridge between worlds to combine performance and beauty. The lines emphasize distinctive new expressions inspired by the racing DNA of the Huracán Super Trofeo EVO2. The front and rear architectures were restructured with sharper lines to improve aerodynamics, bringing about stability and ease in every condition, especially on the track.  
The powerful lines shape a new, unforgettable portrait of the Huracán range.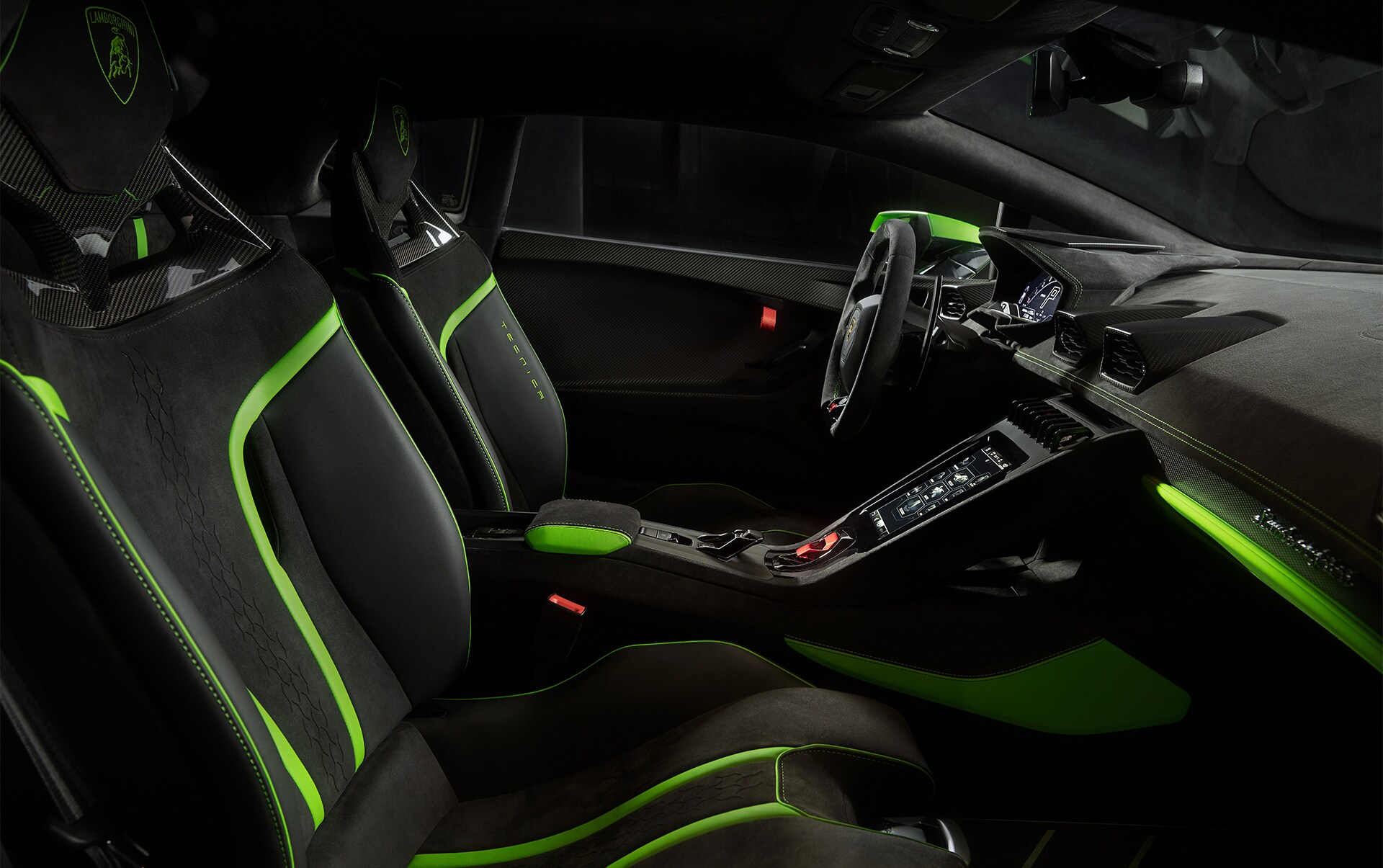 INTERIOR
Made for the driver. The versatility that distinguishes Huracán Tecnica is also a main feature of its interior, with extensive personalization options geared toward providing the most fulfilling driving experience. Exclusive interior finishes made of top-quality materials reflect Lamborghini's Italian design heritage and include a new dedicated trim for the sports seats. Technology also plays a large role in the experience, with dedicated HMI graphics and enhanced connectivity exclusive to Huracán Tecnica. A vast range of Ad Personam combinations is available to further enhance exclusivity.

CENTRO STILE
The sophisticated new design aims to improve aerodynamics and fully express that fun-to-drive feel, wholly shaped by Lamborghini DNA for the ultimate driving experience.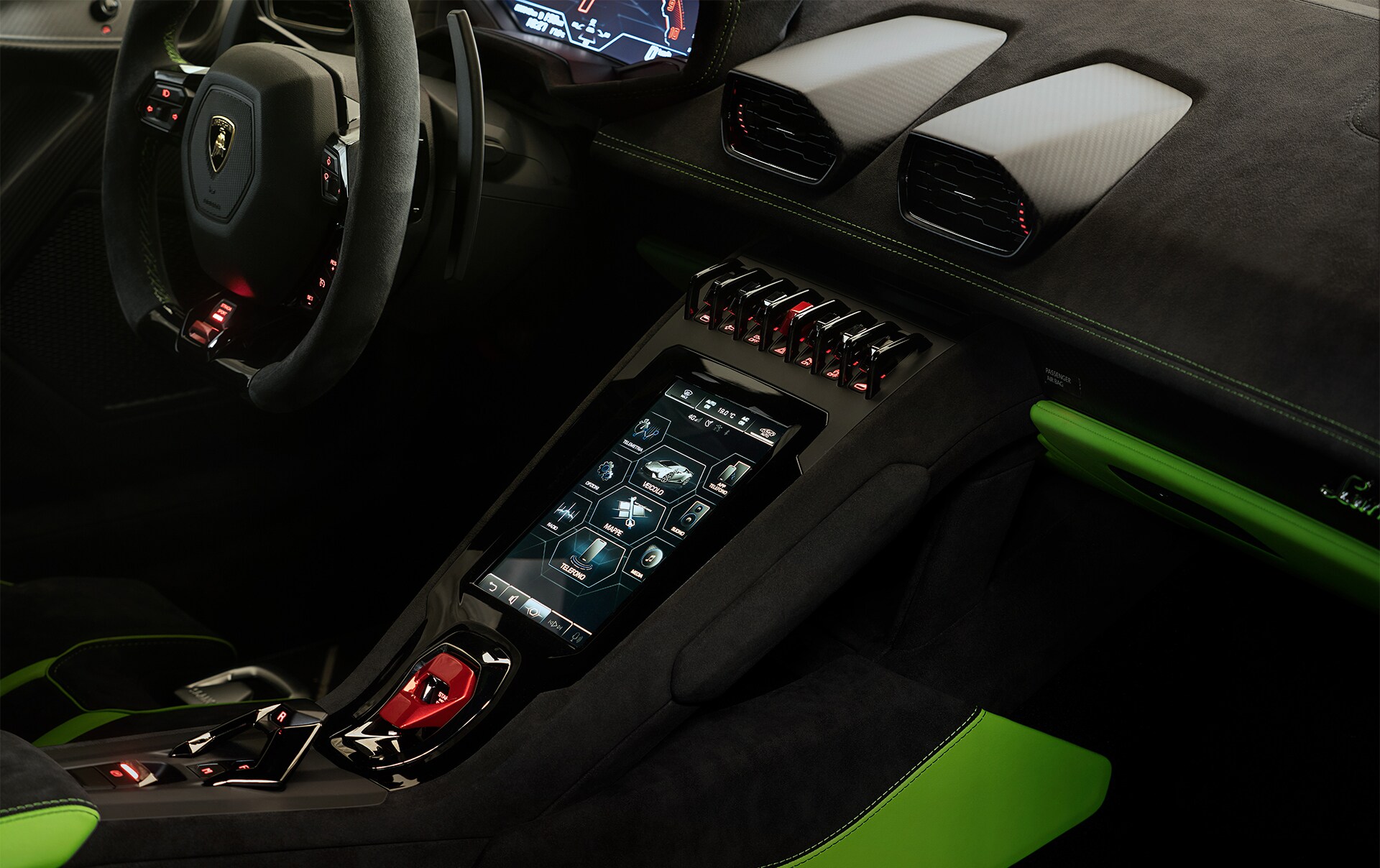 CONNECT WITH YOUR HURACAN TECNICA
The exclusive and advanced suite of connected technologies is ready to raise driving engagement to a level never experienced before. Lamborghini Connect gives Huracán Tecnica drivers peace of mind when they are not at the wheel and provides always-up-to-date functions on board.

AERODYNAMICS
The exterior design was revised to improve aerodynamics, a fundamental aspect for stability and ease of use in every condition. These modifications have led to improved downforce and reduced drag. 

ENGINE
When the engine of Huracán Tecnica roars to life, it reveals a clear link with Huracán STO. The heart of the Tecnica is a powerful 5.2-liter V10 naturally aspirated engine that produces an output of 640 CV (470 kW) at 8,000 rpm and a maximum torque of 565 Nm at 6,500 rpm. This power offers the very best engine output in every condition, which is then combined with a finely tuned accelerator response. The performance level is striking: acceleration from 0 to 100 km/h in 3.2 seconds, 0 to 200 km/h in 9.1 seconds, and a top speed of 325 km/h. The Huracán Tecnica offers an unforgettable driving experience that demonstrates pure power. Fuel consumption and emission values*; Fuel consumption combined: 15 mpg. 

P-TCS
P-TCS is Lamborghini's specific traction-control management that prioritizes sportiness while providing confident, visceral feedback. Compared to a standard TCS, the proactive management of torque improves the effectiveness on low-grip surfaces in Strada mode, maximizes the "fun to drive" element in Sport mode, and enhances vehicle traction and sharpness at corner exit in Corsa mode. 

REAR-WHEEL STEERING
Huracán Tecnica offers the Lamborghini rear-wheel steering system, ensuring best-in-class dynamic performance according to the driving mode selected: Strada, Sport or Corsa. The LRS system manages the rear steering axle through two electromechanical actuators. This system improves agility at low speeds while providing optimum vehicle control and greater stability at highway speeds. 

DIRECT STEERING
Like STO, Huracán Tecnica is equipped with direct steering that makes the steering response more immediate, creating an exceptional connection between the driver, the car and the road. 

LDVI
Lamborghini Integrated Vehicle Dynamics (LDVI) is the technological brain of Huracán Tecnica, capable of coordinating a complex and sophisticated system for the management of driving dynamics. Based on the driver's input, the external environment and the selected driving mode, LDVI can anticipate the driver's wishes, shifting from underlying feedback logic to "feed-forward" logic, from reaction to anticipation - this is the real evolution. 



TECHNICAL SPECIFICATIONS 
| | |
| --- | --- |
|  ENGINE |   |
|  Type // |  V10 |
|  Maximum power // |  631 HP @ 8,000 RPM |
|  Maximum torque // |  417 lb ft @ 6,500 RPM |
|   |   |
|  PERFORMANCE |   |
|  Top speed // | > 202 mph |
|  Acceleration 0-62 mph // |  3.2 s |
|   |   |
|  TRANSMISSION |   |
| Type // | 7-speed Lamborghini Dual Clutch (LDF) transmission |
GALLERY »